A Rebecca Solnit Primer: Earthquakes, Feminism, and Eadweard Muybridge
Five titles by the writer and activist capture a California-specific anxiety.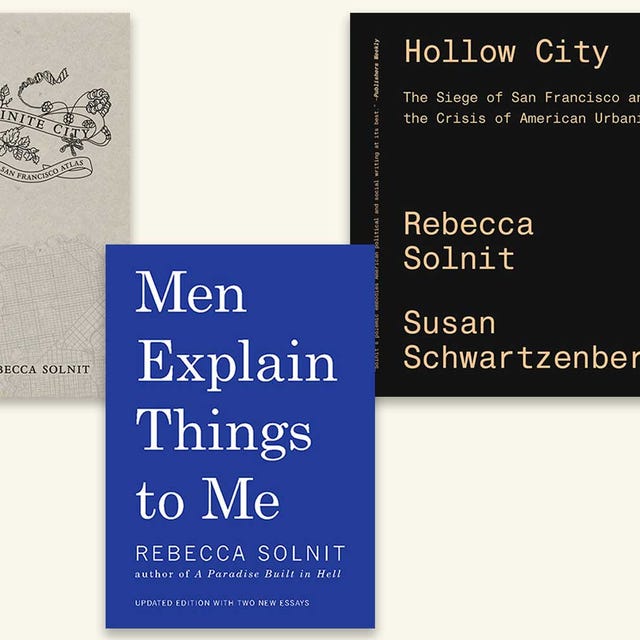 "Are we beholden to each other, must we take care of each other, or is it every man for himself?" Rebecca Solnit asks in the preface of A Paradise Built in Hell, the California Book Club's September selection. Variations of this age-old question propel many of Solnit's books. Her work often asks us to do the difficult work of reimagining our possibilities for empathy and social change, and A Paradise Built in Hell, published in 2009, is no exception.
Raised in California, Solnit frequently situates narratives within the state's landscape as she explores her questions. It's a region defined by diverse terrain—mountain ranges, deserts, cityscapes, crashing waves—and, especially lately, an atmosphere of impending disaster. Rising sea levels. An ever-growing wildfire season. The looming fear of "the Big One." This collective anxiety punctuates periods of rapid growth, along with dramatic political battles over conflicting visions of utopia.
A Paradise Built in Hell begins its consideration of disasters with the 1906 San Francisco earthquake. Solnit reports in one horrifying passage that in 2009, "the San Francisco Fire Department estimates that an 8.3 earthquake with wind at ten miles an hour could generate 71 large fires, which would require 273 fire engines—though the city has only 41." In that moment, the challenge would be for citizens to become the other 232 fire engines. And, Solnit says, they often do: disaster can summon the best in a community even as it causes terrible tragedy.
Here are five other books by Solnit influenced by California's political and social changes over the past decades.•