TV Shows
The desert's most iconic pop culture moments.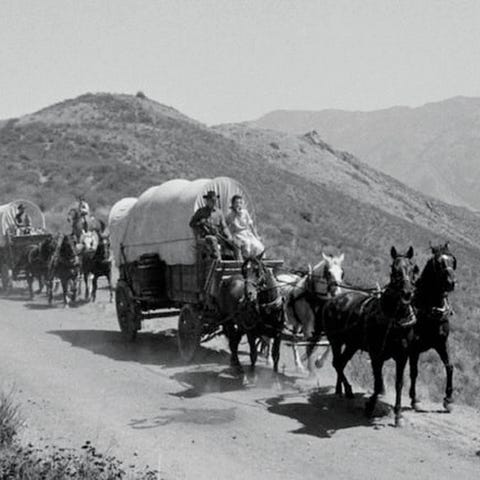 1957–1965
At its peak, Wagon Train was the top-rated show on television, with a who's who of guest stars (from Dennis Hopper to James Caan) and one of the medium's biggest budgets. While most TV westerns of the day were shot on Hollywood soundstages and back lots, Wagon Train's generous bankroll allowed producers to film scenes on location, from California's Red Rock Canyon to Arizona's Tucson Mountains. John Ford directed the show's most famous episode, "The Colter Craven Story"; eager to give his rare TV outing an epic scope, the western-film pioneer generously poached desert footage he'd shot in Monument Valley for one of his own films, 1950's Wagon Master—the movie that, incidentally, served as the inspiration for Wagon Train.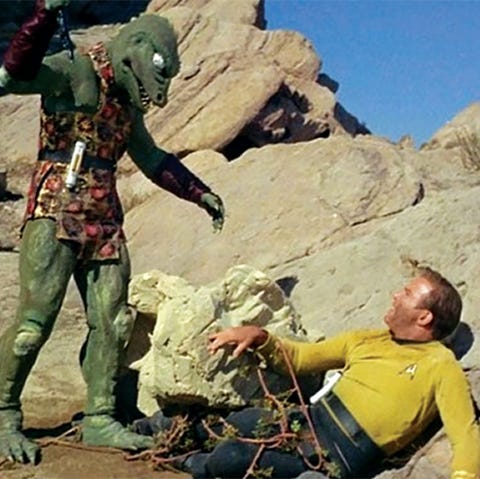 1966–1969
For the original series, the crew of the Enterprise occasionally teleported out of their home base of Hollywood's Desilu soundstages to film in and around Los Angeles, from Griffith Park to Redondo Beach. In the episode "Arena," the dramatic landscapes of Vasquez Rocks, in the High Desert near Agua Dulce, form the perfect backdrop for a battle of wits (and rocks, and explosives) between Kirk and the reptilian Gorn (imagine a human-size Godzilla in a toga). Star Trek kept returning to Vasquez for other episodes (the spot eventually earned the nickname Kirk's Rock), as did successive series in the Star Trek franchise.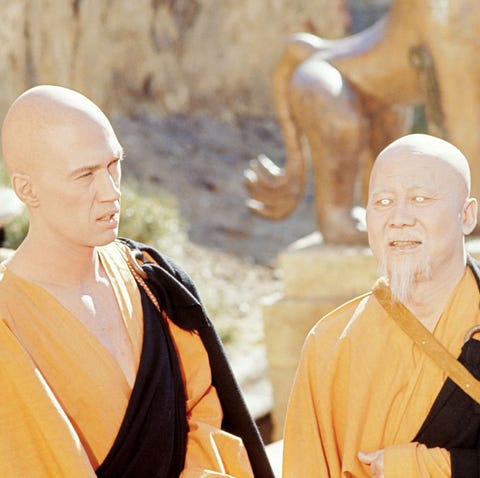 1972–1975
For three seasons, David Carradine, in a feat of creative casting as the Shaolin priest Kwai Chang Caine, roamed the American West, dispensing slo-mo beatdowns and fortune cookie aphorisms. Much of his roaming took place on the sets and soundstages of Warner Bros. Studios in Burbank. But that flute-filled musical opener of Carradine walking across the sand dunes of some unnamed desert, presumably to his next martial arts–fueled adventure, was the real thing. With the majestic look of something out of a John Ford western, the credits sequence was filmed on location in the picturesque Algodones Dunes, outside Yuma, Arizona.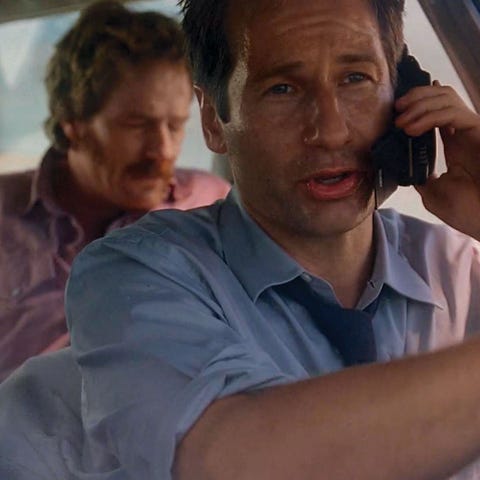 1993–2002; 2016–2018
In the sixth season of the long-running sci-fi procedural, the producers moved the show from rainy Vancouver to sunny Southern California. Soon enough, Mulder and Scully were investigating alien doings in the California desert (standing in for UFO hot spot Area 51) and on spooky Nevada roads. In "Drive," Bryan Cranston plays a desperate guy racing west to keep his head from exploding. The off-kilter role would lead to his casting in yet another off-kilter, desert-based part, this time as the high school chemistry teacher turned meth kingpin Walter White in Breaking Bad…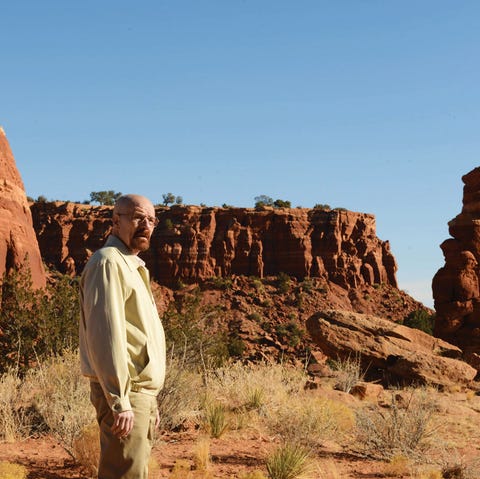 2008–2013
If one wants to cook up a whole lot of meth unconstrained, an isolated area like the middle of a desert is ideal, whether that's Riverside, where the series was initially supposed to be set, or Albuquerque, New Mexico, where it eventually landed. One of the show's most unforgettable scenes occurs in the opening moments of the series pilot: in a sequence filmed on the Tohajiilee Indian Reservation, west of Albuquerque, Cranston's lead character, Walter White, in unflattering tighty-whities, leaves a weepy (and low-res) videotaped suicide note for his family before preparing to gun down the stream of cops presumably on his tail. Thankfully, he didn't go through with it, and viewers were gifted with six seasons of one of the most bingeable shows in television history.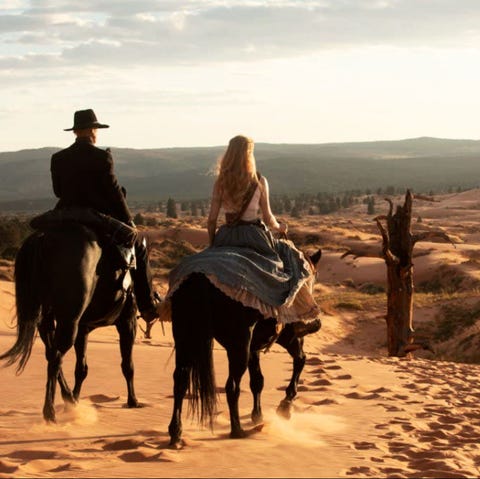 2016–present
To realize their vision of an android-peopled Wild West theme park circa 2050 in the show's debut season, producers shot at locations from Santa Clarita to southern Utah. In the second season, the robotic denizens of Westworld become obsessed with the Valley Beyond, a.k.a. the Forge, a virtual reality paradise—um, for androids—where humans can never, ever hurt them again. Where exactly is robot heaven, according to the world of Westworld? The Trona Pinnacles, an eye-popping collection of tufa spires southwest of Death Valley.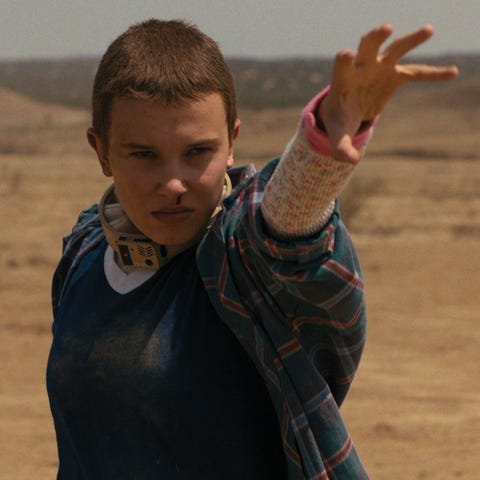 2016–present
In season four's penultimate episode, Millie Bobby Brown, as the show's enigmatic Eleven, reveals why she's one of its most beloved and feared characters. After pulling down an airborne army helicopter and its deadeye sniper with a downward tug of her arms, Eleven turns her attention to "Papa," her de facto dad, who is bleeding out and begging for absolution. Unmoved, Eleven leaves Papa to die in the middle of the Nevada desert. The climactic moment was shot outside Albuquerque, its arid scenery pinch-hitting for Nevada's fabled Area 51. •