Alta Picks: Venture at Your Own Risk
There's nothing like surviving a terrifying plummet into chilly Northern California waters or dodging a falling stalactite deep beneath the earth's surface in Utah. If danger calls to you, here are six activities to try this spring. But we must warn you—these thrills are not without peril, so proceed with caution.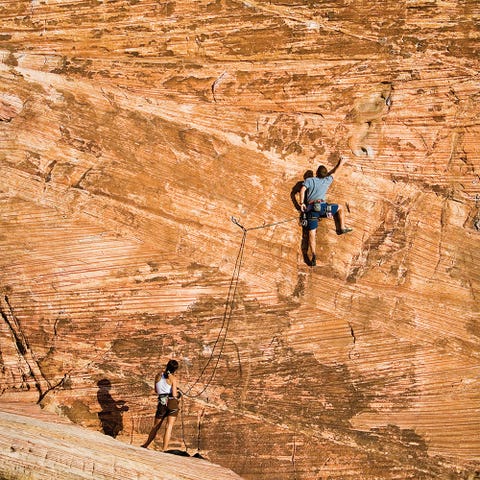 Calico Basin, Las Vegas, Nevada
A mere 20 miles from Sin City lies another alluring place to test your luck: Calico Basin. The geographic marvel features gorgeous sandstone walls where rock jocks of different skill levels can try their hand (and foot) at sport climbing—in which ascents have established routes. The basin's myriad crags boast hundreds of courses with names like Mr. Choad's Wild Ride and Synapse Collapse, offering a range of difficulty and fear factor. Not quite ready for ropes? Calico has plenty of bouldering spots as well.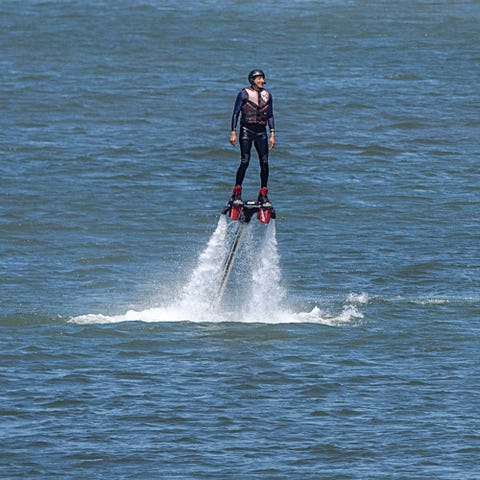 Columbia River, Hood River, Oregon
Dock your jet ski. Flyboarding has taken off in the Columbia River gorge, where windy conditions earned the town of Hood River the title Windsurfing Capital of the World. Boots attach your feet to a small board. Two jet skis power you. Hovering over the water on twin propulsive plumes, you lean to steer and can dive below the surface, then launch back out like a missile. Flyboarding looks extreme, but it requires minimal training and just a life jacket, a helmet, and a local outfitter.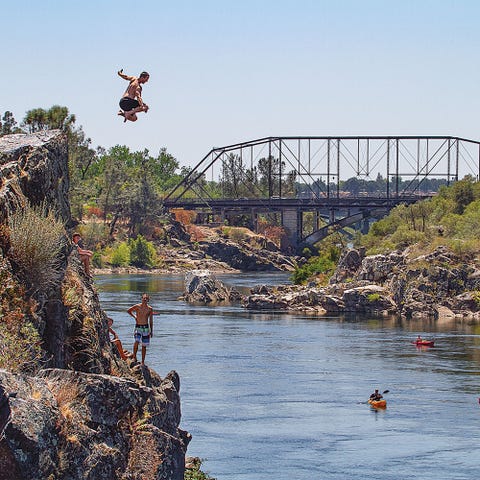 Big Tit, Folsom, California
High in the cliffside along a section of the American River stands a bulbous granite outcropping that has long beckoned local cliff-diving enthusiasts. The spot offers one of the tallest jumps in the area and views of the Folsom Bridge. Whether you're trying to hit that gainer or just looking to feel your heart drop into your stomach, this approximately 50-foot leap comes through. But be careful: it's essential to check for boulders and debris hidden below the surface as well as for depth, and a strong undertow makes it necessary to hop out quickly, or you could find yourself pulled down the river.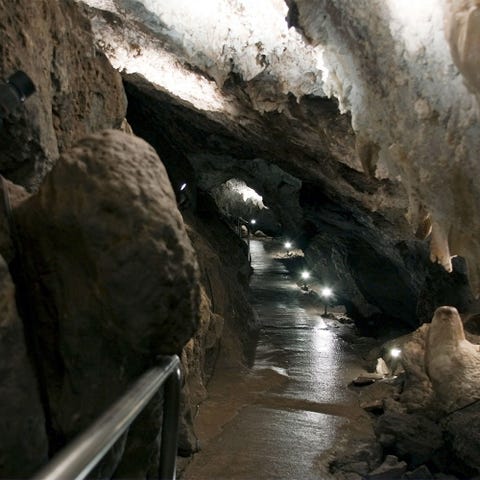 Timpanogos Cave, American Fork, Utah
The typical payoff for trekking 1.5 miles along a steep trail is a handsome view, but at Timpanogos Cave National Monument, it's the cool, dark belly of the earth. Sure, the three-and-a-half-hour hike is guided, but it's hardly a cinch. Wear sturdy boots to safely explore the coral fossils, greenish helictites (think: ceiling made of gravity-defying mineral formations), and yellow-streaked walls of this subterranean kingdom, as jagged rocks and tiny passageways require some finagling to navigate.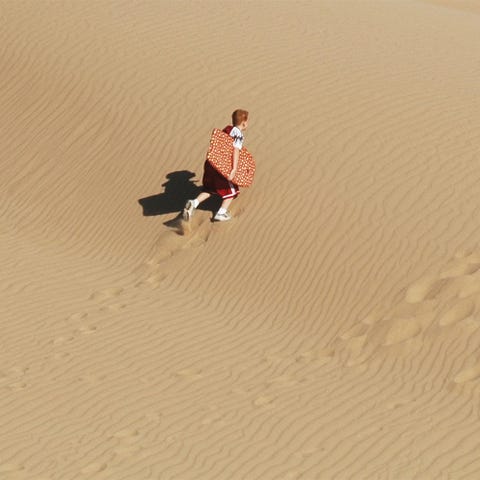 Yuma Desert, Yuma, Arizona

Contemplating a board-based thrill, but stuck between hitting the coast and taking to the snow? Why not head to the desert instead? The steep dunes that spread across the border of California and Arizona are the perfect place to try sandboarding, a blend of surfing and snowboarding. Many desert daredevils shred at the Imperial Sand Dunes Recreation Center on the California side of this expanse. Summon your grit, grab a freshly waxed board, and surf your way across a sandy slope.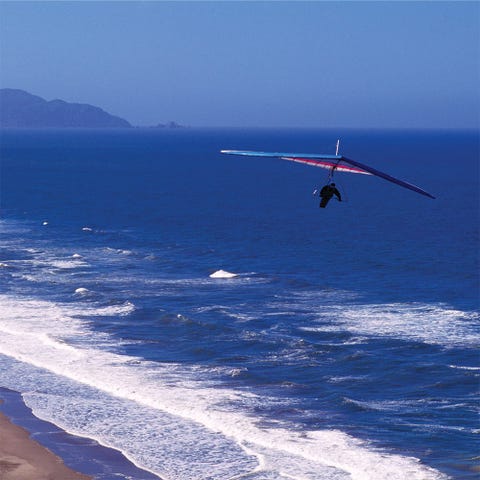 Fort Funston, San Francisco, California
It's a bird! It's a plane! No, it's the Fellow Feathers taking flight from the California coast. Intrepid members of the local hang gliding group soar year-round (weather permitting) from this military fort turned national park. Fliers must be members of the Fellow Feathers and also the U.S. Hang Gliding and Paragliding Association; they also need to have, at a minimum, an intermediate hang glider pilot rating—meaning this spot isn't for beginners. But befriend a Fellow Feather approved to be a tandem pilot, and you too can cruise above the coastline—sandy bluffs to one side and the vast Pacific Ocean to the other.